Home
Projects
About Me
The TRIAX image processor (circa 1990) was designed for real-time stereo image processing. Using a Unified Memory Architecture along the lines of later Silicon Graphics machines, the hardware could simultaneously digitize and store two 756 x 242 x 60 Hz monochrome image streams into a single 2 MB main memory. While new images are being acquired, images already in memory could be analyzed by four 20 MHz Motorola 88000 RISC processors, located on the mezzanine module in the image below (click for full size).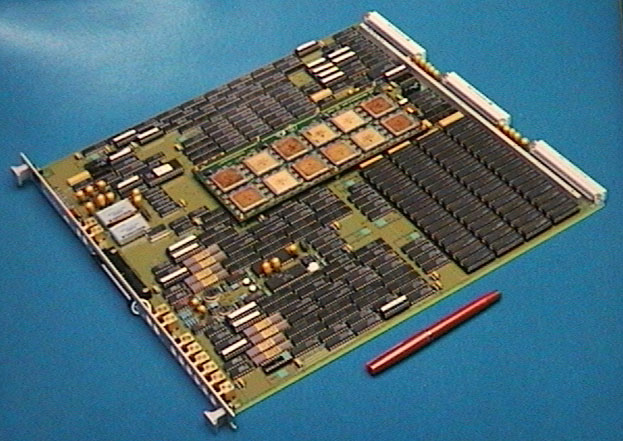 The incoming images could have an overlay applied for diagnostic output. Or, the TRIAX could serve exclusively as a image creation engine, outputing stereo imagery. In the Virtual Batting Cage, TRIAX output the stereo imagery, then switched to input to capture a few frames of the swing, then switched back to providing the head-mounted-display imagery.
The TRIAX processor was also used for closed-loop visual control of robots, such as inserting a wire into a wire-wrap gun visually.